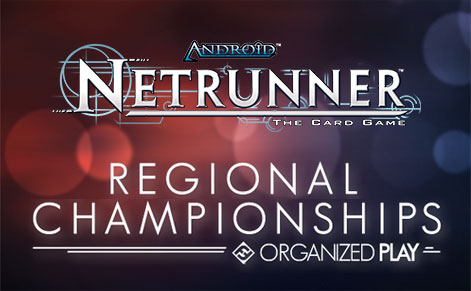 Netrunner LCG Regional Championships
Saturday-Sunday, August 12-13
Fantasy Flight's LCG Regional Championships are your chance to create a community that spans beyond your town or city and the first big test for competitive players on their road to World Championship Weekend in November. A premier event, Regional Championships attract players hoping to earn the precious first-round bye at their National Championship and gain a leg up on their opponents.
Start Time: 11:00 am (Doors will open at 10:00 am)
Entry Fee: $15
Format: Swiss rounds on Saturday followed by double-elimination finals and special "Cache Refresh" event on Sunday. (See below for details.)

Prizes:
1 Regional Champion trophy
1 card granting the winner a first-round bye at the country's National Championship
4 double-sided, spot-glossed identity cards
8 Regional playmats
16 packs of acrylic credit tokens
64 alternate-art cards
Online registration is recommended but not required.

Registration Fee: $15.00
Registration Deadline: 8/12/2017 9:30 AM

Deadline Passed
The online registration deadline has passed, but registration may still be available at the door.
Swiss rounds will begin on Saturday at 11:00 AM (registration will close at 10:45). We expect six rounds of play concluding at approximately 8:00 PM. There will be a lunch break. At the conclusion of Swiss rounds, we will announce the players who made the cut to double-elimination play.

On Sunday, double-elimination rounds will begin at 11:00 AM (doors open at 10:00). At the same time, any players who are not included in the cut may participate in a limited "Cache Refresh" event (see below for details). There will be a lunch break. Play is expected to conclude around 5:00 PM.
The Cache Refresh is a fun, relaxed event format being debuted at some 2017 Regional Events. Only players who completed the Saturday portion of Regionals may participate. In this format, players must construct decks using traditional deckbuilding rules and the NAPD Most Wanted List, but from a more limited card pool. Players can use cards from only the following products:
1 Android: Netrunner Core Set
1 Deluxe Expansion (Each player chooses which Deluxe Expansion they wish to use. Players can choose a different expansion for their Corp and Runner Decks.)
1 Terminal Directive Campaign Expansion
The current Data Cycle (For all 2017 Regional Championships, this is the Red Sand Cycle.)
The second-most current Data Cycle (For all 2017 Regional Championships, this is The Flashpoint Cycle.)
Each round of a Cache Refresh event is 40 minutes and consists of one game. At the start of each round, players bid starting credits and cards (in hand) to determine who will play Runner and Corp that round. Players determine who starts the bidding at random (i.e. Flip a coin, roll a die, etc.) That player chooses which side they are bidding on (Corp or Runner), places the first bid, and then players take turns bidding increasingly more starting resources (the number of starting credits and cards) until one player chooses not to bid and passes. Players use the following rules when bidding:
Players bid a number from 0 to 10, but must bid a higher number than the previous bid. This number represents the combined number of starting cards and credits the player is willing to sacrifice to play the chosen side.
The player who starts the bidding can bid 0. This is a normal starting hand and number of credits (5 of each).
If an even numbered bid wins, the winning player must start the game with less cards and credits each equal to half that bid. If an odd numbered bid wins, the winning player must start the game with less cards equal to half that bid, rounded down, and less credits equal to half that bid, rounded up. For example, a winning bid of 3 would be 2 less credits and 1 less card at the start of the game for that player.
If a game would end in a draw, the player who won the bid at the start of the round loses the game and his or her opponent wins the game.
When a player is eliminated from double elimination rounds, they can enter the Cache Refresh rounds with a number of wins equal to one less than the number of rounds that have finished in the Cache Refresh format. For example, a player that loses the first two rounds of Top 4 or Top 8 double elimination would enter the Cache Refresh format at the start of Round 3 with a 1-1 record.
Prizes: A winner's trophy, playmat, and acrylic tokens will be distributed at the end of the Cache Refresh event.