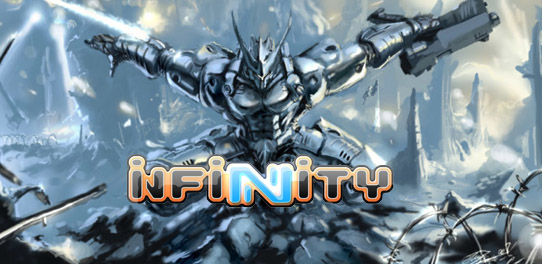 'Shooting the Bull' -- A Dire States event
Saturday, April 25th - Sunday, April 26th
The first of many of "Dire States" Infinity events to be held at Atomic Empire.
Saturday, April 25th
Time: 10 am - 7:30 pm
Entry Fee: $30 prepay. $35 at the door. This covers entry fee, catered lunch, and a collectible item (to be announced later).
Format: 4 rounds, 300 Points, Standard, No Extras. Two lists. Lists are due to Karl-Christian no later than Thursday, April 23rd.
Bonus: INFINITY: ZERO
Sunday, April 26th, 2015
Sunday's tournament is a follow-up to "Shooting the Bull." Entry is free to "Shooting the Bull" participants.
Time: 12 noon - 5 pm
Details for both events can be found on our forums.
Infinity is a skirmish miniatures game played with 28mm metal minis in a science-fiction environment with manga aesthetics. Infinity miniatures are characterized by the high quality and detail of their modeling, the dynamism of their postures and their futuristic aesthetic.
Online registration is available but is not required. Online preregistration is $30; registration at the door will be $35.
Registration fee: $30.00
Registration deadline: 4/25/2015 9:30 AM

Deadline Passed
The online registration deadline has passed, but registration may still be available at the door.