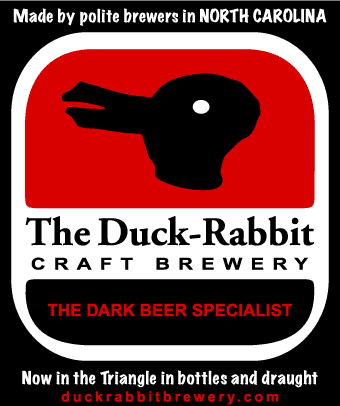 Duck-Rabbit Tap Takeover
Saturday, January 24th
We will have a great lineup of beers for our second annual Duck-Rabbit tap takeover! Join us in the afternoon for board games with Duck-Rabbit representatives (starting at 4pm), and try a flight of 4 different beers for only $5.
Lineup of Beers on Tap will include:
Paul's Oyster Stout
Anarchy
Porter
Baltic Porter
Amber
Brown
Milk Stout
Hoppy Bunny
Jason Morningstar and Steve Segedy from Bully Pulpit Games will also be by to hang out, drink beer, and play a game of Fiasco or two starting at 4pm.
Don't know what Fiasco is?
FIASCO (written by Jason Morningstar) is a GM-less game for 3-5 players, designed to be played in a few hours with six-sided dice and no preparation. During a game you will engineer and play out stupid, disastrous situations, usually at the intersection of greed, fear, and lust. It's like making your own Coen brothers movie, in about the same amount of time it'd take to watch one.
Want to know more? Visit the Fiasco homepage!